Fiber Optic Fast Connector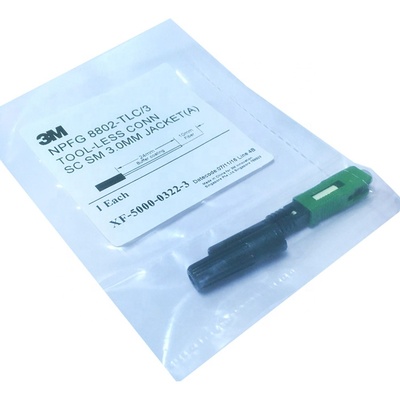 3M 8802 fiber optic fast connector designed for FTTH. It is a new generation of fiber connector used in assembly. It can provide open flow and precast type, which optical and mechanical specification meets the standard optical fiber connector. It is designed for high quality and high eddiciency for installation, the structure of crimping position is a unique design.
1.Easy to operate can save time
2.100% qualified, reduce the maintenance cost.
3.Easy to assembling with mechanical splice and no polishing
4.High stablity ,low insertion loss ,high return loss.
ITEM

Technical Parameters

Application

FTTH indoor&outdoor

Optical fiber diameter

125μm ( 657A & 657B )

Tight buffer diameter

250μm

Fiber mode

Single mode

Operation time

About 100s(no fiber cut)

Insertion loss

≤ 0.3dB(1310nm & 1550nm)

Return loss

≤ -50dB

Fastening strength of naked fiber

>5 N

Fastening strength of naked fiber holder

>10 N

Tensile strength

>50 N

On-line tensile strength (20 N)

Δ IL ≤ 0.5dB Δ RL ≤ 5dB

Mechanical durability (500 times)

Δ IL ≤ 0.5dB Δ RL ≤ 5dB

Drop-off test (drop-off height 4m,

once per direction, totally 3 times)

Δ IL ≤ 0.5dB Δ RL ≤ 5dB

Using temperature

-40~+75°C